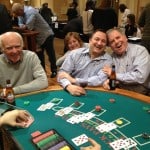 TICKETS SALES CLOSING TOMORROW.  PURCHASE YOUR TICKETS TODAY!
NOVA's Casino Night raises money for the Medical Care NOVA provides in Haiti.  This year we are raising the money to furnish and run the new pediatric clinic which is under construction.
Our casino night will feature traditional casino games (Blackjack, Roulette, Poker, and Craps) as well as a Texas Hold 'em tournament culminating with a valuable grand prize for the tournament winner.
There will also be men's, women's, and unisex Blackjack tournaments with exclusive gift baskets. In addition, there will be a 50/50 raffle, a silent auction and other gift baskets!
Tickets can be purchased for $90 and include:
buffet dinner and dessert

premium open bar

and $50 in casino chips.
Sign up by February 10th and you will receive an additional $50 in chips!!!
Friday March 7th at the Park Ridge Marriott
300 Brae Blvd.
Park Ridge, NJ
Doors open at 6:45 PM
OR CLICK HERE TO DOWNLOAD A TICKET ORDER FORM TO MAIL IN
***
SPONSOR THIS EVENT!
 BECOME A CORPORATE OR INDIVIDUAL SPONSOR OF THIS EVENT.
CLICK HERE FOR INFORMATION
If you cannot attend the Casino Night but would like to financially help NOVA furnish and run our BRAND NEW Pediatric Clinic, please click here to DONATE. THANK YOU!