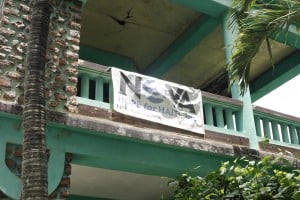 A previous article was written in these pages [see October 20, 2011] about NOVA's initial full-time medical program that will be offered to local residents of Greater Cavaillon, Haïti.  We have been seeking a temporary location from which to launch the Mother-Child monitoring program that will follow and manage pregnant women and their children up to five years of age.  The benefits of this service will provide the assurance of regular prenatal examinations and monitoring of the foetus , vitamin and mineral supplements, identification of high risk pregnancies well before delivery [current lifetime maternal death rate in Haïti is 1 in 93!], educational seminars about good hygienic practices, nutrition,  and healthy child rearing.  Children will benefit from the monitoring of growth, complete vaccination programs, treatment of common childhood diseases and acute life-threatening illnesses.  In addition, the clinic will be set up to handle medical emergencies of all ages as they present.
The Haitian Pilgrims  have initiated and supported multiple programs in Haïti over the past 12 years, ranging from agricultural development with microcredit systems to  construction and maintenance of a 700-student school with lunch program and a full-time medical clinic.  They have been collaborating in loose concert with NOVA Hope for Haïti since 2008 and recently  their Chairman, Mike Frost, joined the board of directors of NOVA Hope for Haïti.  Their Boileau Medical Clinic had to suspend activities in February of 2012 as a result of staffing and management conflicts.  These conflicts have been resolved completely and NOVA has been asked to oversee completely this medical operation including staffing, provisions, delineation of programs and day-to-day professional activities of the clinic.  In addition, care will be provided for pupils of the adjacent school that the Haitian Pilgrims maintains.
A group from NOVA and the Haitian Pilgrims will travel to Haïti in mid-November to set up the Boileau Clinic and its pharmacy, conduct staffing interviews and meet with town and church leaders to further discuss the needs of their community and communicate the highlights of the medical program that NOVA will initiate.
THIS IS GREAT NEWS FOR NOVA!  We will initiate our first full-time,  year-round clinical program some nine months before our new clinic building has been completed on the Martineau campus
.  This valuable time will provide a means to test out staff, evaluate the delivery of our services and establish important relationships with members of the community.  The outcomes we measure will be used to modify and improve upon the services we offer.
HURRAY FOR THIS GOOD NEWS AND FOR OUR COLLABORATIVE PARTNERS, THE HAITIAN PILGRIMS!