Update on the building project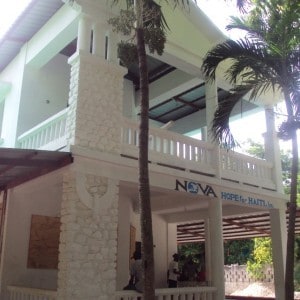 In the spring of this year, we raised enough money to add the pharmacy wing of the new clinic and complete phase I of construction.  The pharmacy wing is much more than just a pharmacy.  That wing almost doubles the size of the original building.  This addition to the original renovation will house the pharmacy, the lab, the record's room and a storage room.  On the second floor it expands our volunteer residence with an additional 2 bedroom and 2 bathrooms and a large dining area.  This means that the volunteer residence will be able to host 8-12 volunteers on smaller, more frequent missionary trips to Haiti.
Click here to read about the upcoming missionary trips.
Here are the floor plans of the clinic in two colors: the original renovated building, and with the pharmacy wing addition:
Here are some recent photos of the construction.  This construction will be complete by the time our set up mission goes to Cavaillon, Haiti on October 16th to set the building up and get it ready to be opened: