Update on the construction of NOVA's new clinic
The 17th Medical Mission team visited the construction site of NOVA's new clinic twice during their week-long mission.  The building in progressing very well.  Stage one – the renovation of the existing farmhouse – is nearing completion and the foundation is being dug for the new Pharmacy and Laboratory wing.  This addition will double the square-footage of our clinic and volunteer residence on the second floor.   The clinic should be completed and open for operation in September 2014.
The money was raised for this addition during our Winter 2014 fundraiser and was the result of a very generous match offered by a long time supporter of NOVA Hope for Haiti.  NOVA is completely volunteer run and is completely funded by private donations.  The generosity of our benefactors is making this clinic a reality and sustains year long medical care for the people of Cavaillon, Haiti and surrounding communities.
Here is what the building looked like during our February 2014 visit and below are photos taken during our last Mission: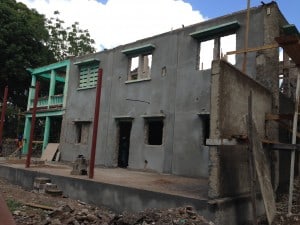 Click below for a PDF of the floor plans for the NOVA clinic under construction: