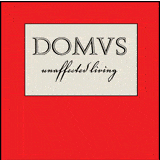 Once again DOMUS Unaffected Living is generously supporting NOVA Hope for Haiti's mission to provide year-round medical care in Cavaillon, Haiti by donating 100% of the proceeds from their tables at the NYC 44th Street block association garage sale.
How can you help?
DONATE ITEMS FOR THE SALE
Take this opportunity to do your spring cleaning and simplify your life! Items must be clean and in sale-able condition: household items, sets of china, SMALL pieces of furniture, jewelry, CDs/DVDs and books, as well as accessories (not clothing,  as we don't have facilities for people to try them on, or anything broken/unusable), would be great.
PLEASE NOTE: we only have a few tables and one day to sell these items, so we need things of value in every price range. 

A quick test is to ask yourself , "Would I give this item to a friend?" If the answer is No, then we cannot sell it.

 
ASK THE COMPANY YOU WORK FOR TO DONATE ITEMS they produce or have a surplus of.  Many Companies have samples or other items they want to find a good home for, so why not give them for a good cause?
E-MAIL THIS TO ANYONE YOU KNOW. Even if you don't have any unwanted items, maybe your friends do. Please forward a link to this page to them: the more varied the merchandise, the better.
WHERE AND WHEN?
The Garage Sale is Saturday, June 2nd from 8:3o AM to 5:30 PM
in front of DOMUS at 413 West 44 Street, between 9th and 10th Avenue.
WE NEED YOUR HELP TO MAKE THE DAY A SUCCESS!
1. VOLUNTEERS NEEDED!
NOVA and DOMUS need volunteers to sell the items at the garage sale.  It's fun and it's easy!
We will need volunteers from 8 am until 5.30 pm, possibly in 3-hour+ shifts, but you can tell us what hours you can be there and we will accommodate you.
If you would like to donate some time to help NOVA that day, please email Luisa Cerutti at Domus at: luisa@domusnewyork.com
2. SHOP AND SPREAD THE WORD
If you can't volunteer please come by to shop, bring some friends and spread the word.  Every dollar spent at DOMUS' tables at the garage sale that day go directly to fund our clinic in Haiti.  So please spread the word!
For any other questions, please email Luisa Cerutti at: luisa@domusnewyork.com
And please… support our friends Luisa and Nicki by visiting their store where you can find amazing, unique gifts and items for the home from around the world.
DOMUS is at 413 West 44 Street, between 9th and 10th Avenue.
They are open from 12 to 8 Tuesday through Saturday, and 12 to 6 on Sunday.