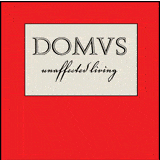 Domus has been supporting NOVA Hope for Haiti for over seven years and they are helping us again!
This year DOMUS is again helping NOVA Hope for Haiti provide medical care year round in Cavaillon, Haiti by donating 100% of the proceeds from their tables at the 44th street block association garage sale.

WHERE AND WHEN?
The Garage Sale is Saturday, June 3rd from 8:oo AM to 5:30 PM
in front of DOMUS at 413 West 44 Street, between 9th and 10th Avenue.
WE NEED YOUR HELP TO MAKE THE DAY A SUCCESS!
Through the generosity of some of DOMUS' vendors, everything sold at the event this year will be brand new items donated specifically for this sale!
1. VOLUNTEERS NEEDED!
NOVA and DOMUS need volunteers to sell the items at the garage sale.  It's fun and it's easy!
We will need volunteers from 8 am until 5.30 pm, possibly in 3-hour+ shifts, but you can tell us what hours you can be there and we will accommodate you.
We especially need people between 11:00 AM and 2:30 PM.
If you would like to donate some time to help NOVA that day, please email Luisa Cerutti at Domus at: luisa@domusnewyork.com
2. SHOP AND SPREAD THE WORD
Whether you can volunteer to help us with the sale that day, don't forget to come by, shop, bring some friends and spread the word.  Every dollar spent at DOMUS' tables at the garage sale that day go directly to fund our clinic in Haiti.  So please spread the word!
And please… support our friends by visiting their store where you can find amazing, unique gifts and items for the home from around the world.
DOMUS is at 413 West 44 Street, between 9th and 10th Avenue.
They are open from 12 to 8 Tuesday through Saturday, and 12 to 6 on Sunday.