NOVA Hope for Haiti and the Church of the Presentation were scheduled to hold their 11th medical mission to Haiti this week. Our team was scheduled to fly to Port-au-Prince on Saturday, November 6th, but do to the flooding caused by hurricane Tomas and the torrential rain it brought we needed to cancel this trip. The road between Port-au-Prince and Cavaillon, highway 2, was flooded out and impassible making it impossible for the team to get to our destination. Since we didn't know how quickly travel would become possible, we decided it was best to postpone this trip. The team is sad about having to cancel, especially since people sacrifice vacation time, and their own money for travel expenses to go, but we always put the safety and welfare of the team of volunteers first. We will definitely reschedule this trip soon.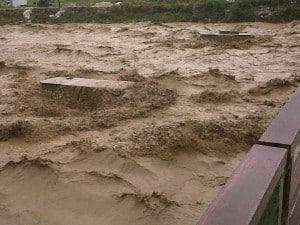 (in photo: the river in Leogane, Haiti, that burst its banks and flooded the city during the torrential rains that Tomas brought)
That's the bad news, now for some good news…
Jean Danson is having his heart surgery right now (Monday morning, November 8, 2010) at St. Joseph's hospital in Paterson, NJ. We are praying for the little guy and the surgeons that everything go well. It's a miracle that this little guy has even gotten this far to have a chance to get this surgery that will hopefully save his life.