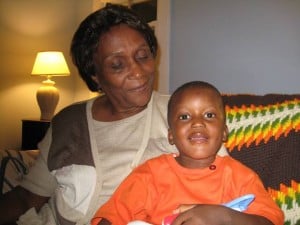 During NOVA's April 2010 medical mission to Haiti, our volunteer medical team examined a little 4 year old boy, Jean-Danson Etienne. Danson's mom said that he was becoming listless and often had little energy. A simple stethoscope revealed a significant heart murmur that our medical team became worried about. There was nothing more we could do for him, but there was definitely something wrong with the little guy's heart. The doctor's suspected a serious heart condition but only further tests available in Port au Prince, 5 hours away, would tell us for sure.
As with most of our patients, Danson's family is very poor and don't have the means to go to the capital for medical care. So, NOVA arranged with Solanges Toussaint, our volunteer and board member who lives in Port au Prince, to have the necessary tests done. That' was all we could do at that point and Danson and his mom just had to go home.
They did make the trip to Port au Prince and NOVA paid for the tests to be done. The news wasn't good. The tests showed that Danson has a congenital heart defect which will soon kill him. The surgery he needs in order to live is available in the US but just doesn't exist in Haiti. Danson's parents did their best to save their son's life but there simply was no way for him to make it unless he came to the US for surgery.
It took months for NOVA to help his mom get him a passport and a medical visa. Solanges had to do a lot of running around the capital, and she hosted the family when they were in the city. Stateside, the team scrambled to find a hospital and a surgeon who would donate their services for Danson. NOVA wound up partnering with Gift of Life in New Jersey who made the hospital arrangements and we brought the child and Solanges up to the US for surgery.
Danson and Solanges arrived this week and his surgery is scheduled for next week! We are hoping and praying that everything goes well for him, and we are confident that it will. There he is in the picture after arriving in New Jersey, smiling and excited after his first plane ride.
I'd like to thank everyone who worked hard to bring Danson here and who will continue to work hard to make sure his heart is healthy and strong, and to our donors without whom we could do none of this.
Welcome to the US Danson!