Dental care is almost non-existent in our community and part of our mission is to bring dentists on at least one mission per year.
Six year-old Jethro came to the clinic and was seen by our volunteer dentist, Dr. Wendi Warlaw. A very bad infection in his teeth and jaw was affecting his ability to eat and could potentially spread throughout his body. Due to the severity of his condition, he needed more care than NOVA could provide given the constraints of a week-long mission so NOVA sent him to a dentist in Les Cayes, the city about 40 minutes from our clinic, to get the treatment he needed.
NOVA is sponsoring his dental care which has already begun and NOVA will continue to monitor his condition and provide any follow-up care.
Here are a few photos of Jethro pre-care:
Jethro goes to the dentist, first at NOVA's clinic then in Les Cayes:
A few days in the life of our neighbor and patient, Jethro:
Jethro after his first dental treatments.  He is on the mend!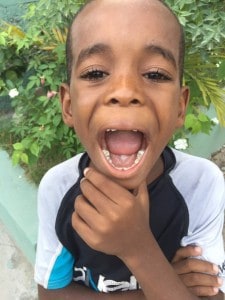 Photos by Nick Glimenakis (www.nickglimenakis.com)