The NOVA executive board hastily convened on January 13th and decided to urgently move up a previously scheduled April medical mission to southwest Haiti. Organizations with infrastructure and willingness to dovetail were hastily sought out on the Internet. A Facebook connection led to Project Medishare for Haiti, a long established a respected organization led by the neurosurgeon Dr. Barth Green and based at the University of Miami. They were willing and indeed eager to accept NOVA's help and we hastily assembled a team of nurses, physicians and translators willing to leave on the spur of the moment. The list of willing volunteers is still growing.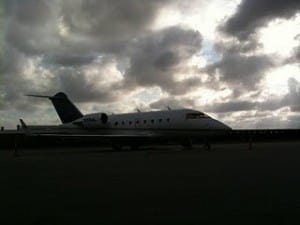 We made our way to Fort Lauderdale but our connecting flight was cancelled because of need for engine overhaul. No commercial flights are available to Haiti, and Dr. Green was using the good will of personal friends and acquaintances to supply corporate and private jets for transportation of staff and goods. We all had to be patient and extremely flexible.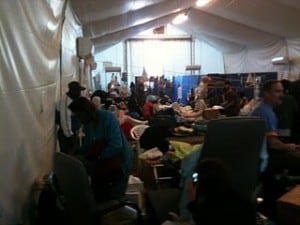 The following day Stewart Miller of the Lennar Corporation and his colleague Eric Feder flew us out of Opa-Loka commercial airport near Miami. The overriding spirit of the medical mission trip to come became evident: there were not enough seats for everyone on the private jet, and our hosts-in-flight stood on their feet for the entire trip emphatically rejecting all overtures to trade places with them for even just a few moments of relief! It was incredible to witness the owners of the private jet standing so we could sit.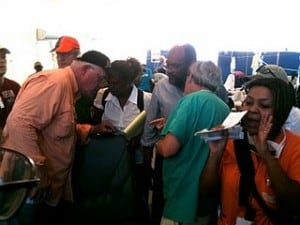 Through personal connections with the Brazilian-led MINUSTAH (UN Forces in Haiti) in Port-au-Prince, Medishare secured two large Quonset Huts within the UN Garrison adjacent to the Toussaint Louverture Airport. Each could fit about 120 patients but by the time the NOVA team arrived on the January 16th these two open wards were filled beyond capacity. Surgical equipment was still being assembled and the care plan at the moment of NOVA's arrival was to provide antibiotics, intravenous hydration and pain killers. Day and night shifts were established within the various medical specialties that had responded and incredibly dedicated medical volunteers who had come from Houston, Boston, Baltimore, New York, Miami, etc endured 12 to 16-hour shifts. The encountered injuries were atrocious, involving multiple fractures with subsequent days of compression under concrete, facial fractures by compression, extremity compartment syndromes, deep lacerations with loss of tissue and the onset of putrid gangrene. I have photographs of many very seriously injured people which we chose not to upload because of the graphic nature of the injuries.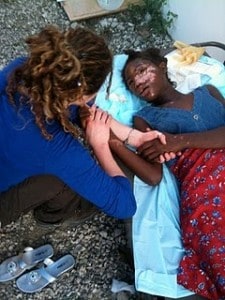 Eventually life-saving open amputations became the order of the day, all performed without oxygen and on kitchen tables and, sadly, with the minimal anesthesia available. Most of the hospital discharges were through deaths, but there were no operative mortalities. As space opened up through attrition, truckloads of salvaged victims extracted from building rubble were brought in for triage, some at the threshold of death from their wounds, others who could be treated minimally. Medical and surgical care for over 240 people was a daunting task: to keep a renewed supply of IV's solutions going (all hanging from strung-up ropes), to try to supply the necessary antibiotics on a schedule, to change wound dressing in a timely fashion and discover who had to be amputated more urgently than whom. The medical staff slept, when they could, on the floors of the Quonset huts and atop soft luggage around the desperately ill and moaning patients. Food was available intermittently when new flights of staff and provisions were brought in on donated private corporate jet flights, sometimes up to three per day. The scene was reminiscent of a passage out of Dante's Inferno.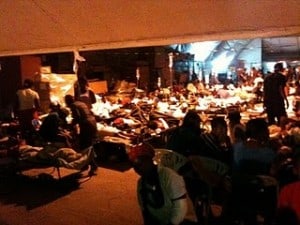 Nonetheless, Dr. Green and the Surgical Director of Operations, Dr. Enrique Ginzburg of the Ryder Trauma Center of Jackson Memorial Hospital, did a heroically magnificent and successful job of holding it all together in temporary quarters while, during six days, Medishare and the University of Miami built and fully supplied an entire four-tent hospital complex, donated by the retired professional basketball player Alonzo Mourning which is not located on the grassy field of the Port-au-Prince airport. Future NOVA teams are preparing right now to volunteer in this new tent-hospital.